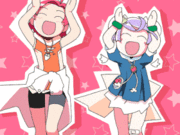 Update 11/24/2017 - My friends, today is a wonderful day. Lucca Collier has married Daisuke Jigen! Please send them warm wishes and view their marriage certificate in the marriage service section of my website. c:



Update 9/22/2017 - I posted a new ficcy today! It's in the fanfics section. This one took me like 3 days to write, I worked hard on it. I hope people will enjoy my stories. <(*u*)>



Update 9/16/2017 - I added some avies and buttons to the goodies section and added a fanfiction section! Please check them out warmly.



Update 9/15/2017 - Today was a big day! I married lukas to Soubi Agatsuma, puppyluvr95 to Inuyasha, and lukethelongporkjohnson to Hannibal Lecter. I am so delighted to have the honor of personally marrying these lovely couples.



Update 9/13/2017 - BIG NEWS!! I added a new section to my site for computer graphics! Right now there are some desktop wallpapers I made, and in the future I plan to also make some forum avatars and buttons. Please check out the goodies section and have a nice day! I also married thewanderingone to Garrus Vakarian.



Update 9/11/2017 - I didn't log into my email I made for marrying my friends on the world wide web to anime characters for about a year and I forgot the password to it... @_@ sorry everyone!! If you emailed me to get married and did not recieve a certificate, please resend your request to my new email cherrychanxXx@aol.com. I will do my best to remember to check my email from now on in 2017!!



Update 9/10/2017 - Today I spiced up the front page, added kaoanis everywhere, and fixed the guestbook which was broken. I also married majincell79 to Kaoru Tanamachi from Amagami SS and horsedevan to G1 Megatron. Congrats to the newlyweds!



Update 2/15/2016 - iluvcatgrls999999999 and im_k were married today to Felicia and Yukiko (respectively.) What a joyous day!




Update 2/10/2016 - I married two people today! ellana-rutherford was married to Link and blueberrychan was married to TFP Starscream. Check out their marriage certificates in the Marriage Service link!




Update 2/5/2016 - My site is finally up and running! There's still none of my personal art up yet, but the other pages should all be working as intended now. Please feel free to explore! *^^*