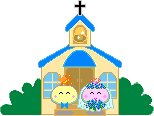 Have you ever wanted to marry an anime character?
Well, now you can!

Just fill out the form below,
and I will email you your marriage certificate!
You can put this certificate on your website
to show your love to the whole world.
It will look something like this:

I am actually an ordained minister,
so your marriage will be legally
and spiritually binding
on heaven and on earth!




Rules:
Only one character can be married per person. (Save some bishies for the rest of us!)
Please link back to me if you want. I can also link your marriage certificate to your own website if you would like! Just put a link to your website in the form below.
Please allow a few days for me to complete the marriage process in case I don't check my email for a while.
Love the character you are married to until death do you part!

Ready to get married? :3
Submitting this form will open your email client.
If the form isn't working, you can also send an email with this information to cherrychanxXx@aol.com

*~Hall of Happy Couples~*